The Startup Pilot Project – start the cooperation with startups
Startup Pilot Project or simply Startup Pilot – this is a term that everyone who is involved in Startup Cooperation has come across at one time or another. But what exactly is it about and how does the process of a Startup Pilot Project work? What do you need to consider before and during the implementation? In the series "Starting cooperation with startups" we would like to provide information and tips on how to avoid potential hurdles. 
What is a Startup Pilot Project? 
Startup pilot projects take place between startups and cooperation partners. These can be large corporations as well as medium-sized companies or public authorities. After both parties have got to know each other in the "learn phase", the "match phase" is now about seeing whether they really fit together and work together in a cooperation. In the course of this, a joint pilot project is initiated, quasi a test version of a first cooperation. This is limited in terms of both time and money, and thus carries far fewer risks than a long-term cooperation. In an interview with the Humboldt Institute for Internet and Society, Roman Neumann of VR-Leasing AG also describes pilot projects as a kind of service contract:
"We start with a pilot to see how it works. Once we have passed the learning phase and the pilot is completed, then it is a matter of making the decision to do a joint project, which is then brought to market readiness". 
In addition, potential hurdles and problems in a collaboration can be identified early on. Pilot projects therefore play an important role for both parties. They are particularly attractive for start-ups in the early stages, as they enable rapid results. One starts quasi with a non-binding dating instead of getting married directly.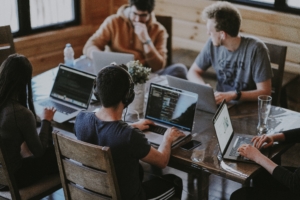 Duration and implementation of a pilot project
At the beginning of the pilot project, its course should be defined. This also includes defining the time frame from the outset. The typical duration for a pilot project is about three to six months. A pilot project is also suitable for trying out new things and experimenting, as failure is allowed at the beginning. It is important that an open, positive error culture is practiced by both sides, as this allows us to learn from mistakes in a joint process and to improve both the collaboration and the product. The challenge for startups in such a project is to find the right contact person in the company. In addition, the management,  and not only the project management should be involved from the beginning.
After selecting the right startups, which should already have been done in the "learn phase", the challenge for the companies is to evaluate them with regard to a longer collaboration. After completion of the pilot project, both the startup and the company can decide how to proceed. If the pilot project has already shown that a cooperation can result in added value for both parties and that they also harmonize in their cooperation, a long-term partnership can be initiated in the next phase of the cooperation process, the "partner phase".
What needs to be considered during the startup pilot project? 
Before the pilot project is even started, it is important that both parties clearly define the purpose of the cooperation. The identification of needs should therefore already have taken place. In addition, it is important for the corporate groups or medium-sized companies to consider whether the product of the start-up can be implemented appropriately in the corporate structure. Furthermore, it is advantageous if there are plans already at the beginning of the pilot project how it could continue afterwards. Since pilot projects usually aim at long-term cooperation, it is useful to determine together from the outset what this might look like, so that disagreements do not become apparent only after the conclusion of a joint pilot project. Also the topic of compliance, which companies often deal with much more than the start-ups and bring more know-how with them, should not be disregarded. Two other particularly important factors are transparency and speed. After all, time is precisely the resource that is very limited for start-ups, especially when they are still in the early stages. Transparency and trust from both sides is a fundamental prerequisite for successful partnerships, also with regard to long-term cooperation. Therefore, this point should be emphasized right from the start in order to start the first joint project with a good basis.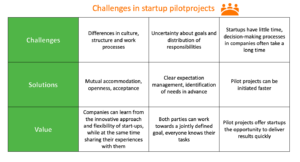 In a pilot project, both parties can check whether it is really a match. The advantage over a direct long-term partnership is that the start-up and the company can first get to know each other without pressure and in peace. Pilot projects are very attractive for start-ups because they offer them the opportunity to deliver quick results and the initiation phase is usually relatively short, so there are no time problems. As many advantages a successful cooperation can bring for both sides, it is also important to recognize if one does not fit together and to accept this. Since a pilot project is a resource-saving format, and there are both time and financial limits, both sides take only a small risk.
"The most important thing about a pilot project is that it minimizes the costs of subsequent failure and, in addition, shows commonalities and confirms the added value and advantages for both sides."
This explains Stephen Qauatrano from the U.S. company Cisco in an interview with the Humboldt Institute for Internet and Society. So if the project fails, the financial damage is limited. This also applies to the reputation of both partners. However, if the first joint collaboration is positive, this provides the ideal basis for entering into a long-term cooperation.
About Ambivation


Ambivation connects innovative companies and startups for cooperation and innovation partnerships. As an innovation consultancy and matchmaker, Ambivation promotes cooperation between established companies and startups within the framework of concrete customer, supplier and research partnerships. We support companies in the identification of needs, startup identification, startup evaluation and cooperation initiation with startups. Formats such as research on relevant startups, startup monitoring, strategic cooperation consulting or event formats such as startup tours serve this purpose. Our monthly newsletter also provides information on current examples of cooperation and events.