Industry 4.0 and IIoT Startup Use Cases – Hannover Messe Digital Days
As part of the Digital Days at the Hannover Messe, a round table discussion on Industry 4.0 Use Cases was held. The central topics included the added value of data, which is the most important value-adding factor in the Industry 4.0 sector. In addition, the discussion will focus on use cases from the practical experience of start-ups and medium-sized companies and the field of Industrial IoT. Among the participants is Philipp Becker, technical director of Vision Lasertechnik, who took over the project management of the first Smart Factory in Germany in 2007. He also teaches in Bielefeld and Hanover in the fields of automation, digitalization and robotics. Sigrid Rögner represents the medium-sized industrial camera manufacturer IDS Innovation and deals with innovation and start-up cooperations. Madeleine Mickeleit has many years of experience at Siemens in the area of Industrial Internet of Things. Her main focus lies in the development of IoT and Industry 4.0 applications. She is also founder of iotusecase.com and runs her own IoT podcast. From the area of cooperation and start-ups, Christoph Baier, Managing Director of Ambivation, is represented. His company connects companies, start-ups, medium-sized businesses and the public sector for successful innovation partnerships.  Another article on our blog deals with IIoT Startup cooperations.  Here you can find the complete video of the talk show.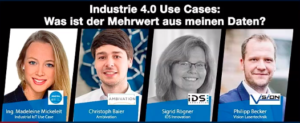 Madeleine: Philipp, what were the prerequisites for you to start with the topic Industry 4.0. What do I have to do as a company to dedicate myself to the topic? 
Phillipp: Not everything can be solved with technology alone. It's the digital mindset that should be there before we even talk about technology. How do I want to work? How do I work today? How do I want to work in the future? How do I want to divide my employees and what do I want to produce? These are the questions I have to ask myself first. Then again, do I actually have the opportunity to search for technology? It is available today. When we started in 2007, not so much was available. If you asked somebody what technologies were available to network our machines, there was a huge void. These technologies did not exist yet. That's why you should start having visions and see how you can actually get started.
Madeleine: Sigrid, would you like to add something from your perspective? 
Sigrid: As a camera manufacturer, we are actually more of an enabler of Industry 4.0. In recent years, even with the start-ups we have worked with, the topic has always been how to get the data out of the machines. Often these are outdated and not every machine has the possibility to simply deliver data. If they have already been in production for twenty years or do not have any interface requirements, you have to catch up on that. One of the first things to do is to see how you can get the data out of the machines.
Madeleine: Perhaps we'll go into the subject of connectivity in the concrete use cases right away. Philipp, where do you see approaches, areas of application or even business added value? 
Philipp: When considering added value, it always depends on what we want to achieve. There are many companies that want to optimize their cycle times, for example. We have just received a good example from Sigrid on the subject of connectivity, the integration of visual inspection through industrial robotics. Not only at the machines, but also connected in such a way that we can read them with third-party systems. In general, I think that most companies know their problems in the process. The goal should now be to see how existing digital technology and smart solutions can solve these problems. Fortunately, there is a lot on offer today. In the Use Cases we also look at how data-driven solutions can be found that bring the advantage one is looking for.
Madeleine: What does it look like in the ROI area, can you put a figure on it? You can save time by optimizing processes. For example, when I hire new employees and create digital products and services that I can use to train them, these are very soft factors. Is it really possible to look at the return and investment of such products? 
Philipp: Yes, you can. You know your process and you know what it costs. If this process is known, then I know exactly how much time each workpiece takes in production. I know what hourly rates I use to calculate and what this workpiece costs. If I now have the possibility of optimized production through improved automation, I can quickly calculate my ROI. So what the initial costs cost me once and over how many workpieces, and over what time I can calculate them afterwards. This works in many areas. I always caution against saying that digitization takes the jobs away, because the ROI saves us personnel. This is not the case, as the past has shown. That's why I think it makes sense, especially for Germany as an industrial location, to optimize to such an extent that we can maintain the location here. Technologies such as automation, robotics, digitalization, etc. are definitely a good option.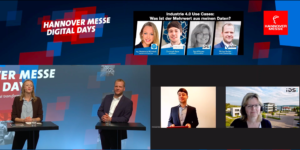 Madeleine: Sigrid, what is your opinion? 
Sigrid: I think that suddenly many things are possible that were not there before. Customers want to have smaller series, right down to the loose quantity of one, which is only possible thanks to digitalization. One hundred percent quality monitoring was not possible before either, unless someone was actually on the line. Of course, these are issues that were not even possible before Industry 4.0. Of course, this is not finished yet. For example, I can recognize things that I could not recognize before, so here we are again with the topic of image processing. Especially in the area of nature topics and things that grow there are now completely new possibilities.
Madeleine: If I now go into the area of the concrete use cases from practice, Philipp, do you have an example from your daily work, which you also developed together with customers? Maybe you have a use case for us, how you go about it?
Philipp: We are a machine and plant manufacturer. In the case of two lattice boxes with turned parts, we once had the problem that when the truck came to pick them up for shipping, they had disappeared. This happens from time to time, they were sent to the wrong logistic way at the wrong place and therefore arrived at the wrong place. This can happen, but it is annoying and costs money. At that point we said that we could technically solve this problem. We were looking for a technical solution and we managed to do this via asset tracing. Today it has become standard for us to be able to locate every transport container that has Bluetooth, for example. It is not a question of where in the hall the box pallet is located, but whether it is still in the hall at all. Today we have the topic of data, and that's where it gets interesting. The original idea was to know where the box is at any moment on demand. The advantage is that the more data I have, the more possibilities I have. For example, I can work with geofancing or QA approvals.
Madeleine: That means concrete parameters that you track are, so to speak, the location and condition of this box. What are data or KPIS that you record in the field of these boxes? 
Phillipp: They are different. For one thing, there is a digital twin for this box, but I can also digitally lock it. This also allows me to calculate the KPI or ROI, as well as the actual flow I have in my production. It is of little use to me to optimize each box if I have not mapped the workflow later.
Madeleine: And you then integrate this data into your manufacturing executive system? 
Philipp: Yes, that is bidirectional. The box knows where it is itself at the moment and what is in it in terms of content, where it should go next and where not. On the subject of data, you always have to be in control of your own data. The system that we are now developing ourselves plans all assets and resources and actually does this independently in the machine learning rhythm. One problem that arose here, for example, was that the master machinist no longer received any orders from the system. You have to find out what the reason for this is. In this case, the system didn't know that the master machinist had other tasks, such as employee meetings, etc. Since it evaluates according to the duration of the orders, it then assigned other employees.
Madeleine: So concrete added value from the data here, time saving. Sigrid, do you also have a use case from your daily practice that you can give us? 
Sigrid: We have had a camera on the market since the fall that actually works very intelligently. I can play neural networks on it, and then you can train it to recognize and distinguish between certain features. We have a second example right now with a start-up. We almost exclusively make hardware, the only exception is Lighthouse, i.e. the classification on the camera. For many things, however, so-called system integrators are necessary, for which we are currently working with a startup. They can detect anomalies on the fabric on a textile machine, for example.
Madeleine: This means that the customer is in this case the textile machine builder, who lets this fabric run over the machine in the process and your camera takes pictures of this fabric in the end. And the artificial intelligence now manages to detect foreign substances through such an anomaly, or how does that work exactly? 
Sigrid: Many pictures are used to train how such a material can look like and then this camera learns in principle like a child, to put it very simply. Everything that I can see as a human being, in the end the AI can also recognize.
Madeleine: That means added value from the data is that I can use the AI to recognize things that I didn't see before, or saw too late, or that I didn't notice until quality management? 
Sigrid: Exactly, too late. If I have certainty in the test right away, I can sort out and then I have no more errors in production. But this anomaly detection, that's a startup I'm talking about now. You don't just do it in that area, but you can apply it to all kinds of topics, of course.
Madeleine: Philipp, you come from the field of robotics. Do you have another example that you can give us from this field? 
Philipp: Yes, the robotics area is currently incredibly interesting. The classic industrial robotics systems of the past were very difficult to set up and often performed their task for many years over a long period of time. That has now changed with collaborative robotics. What we are particularly proud of is the company Yuanda robotics, which is based here in Hannover. This means that we suddenly have lightweight robotics that is inexpensive and quick to install. But it is also true that robotics does not solve all problems. Especially in factories, where the employee still carries out quickly changing activities at a high speed. This is something that we are not yet ready for today, which is perhaps a good thing, because it is certainly an ability that we can retain as humans.
Madeleine: Where do you use these robots then? You gave me a few examples, but do you use them for yourself? 
Philipp: Yes, we also use them for ourselves in second and third shifts. Our production is actually only single-shift, but by using robots on machines that people work on during the day, you can easily operate a second shift. This works excellently when the material supply and removal systems are working. That doesn't take away any of the workstations, and the good thing about the co-bots is that I can operate them again the next day with human hands.
Watch the full-length discussion round on the topic of Industry 4.0 at the Hannover Messe Digital Days here.
About Ambivation


Ambivation connects innovative companies and startups for cooperation and innovation partnerships. As an innovation consultancy and matchmaker, Ambivation promotes cooperation between established companies and startups within the framework of concrete customer, supplier and research partnerships. We support companies in the identification of needs, startup identification, startup evaluation and cooperation initiation with startups. Formats such as research on relevant startups, startup monitoring, strategic cooperation consulting or event formats such as startup tours serve this purpose. Our monthly newsletter also provides information on current examples of cooperation and events.