The Customer
The Deutsche Leasing Group is the leading solution-oriented asset finance partner for German SMEs and offers a broad range of investment-related financing solutions (asset finance) and supplementary services (asset services). Within the Sparkassen-Finanzgruppe, Deutsche Leasing is the competence centre for leasing and factoring as well as other asset finance solutions and supplementary services for SMEs in Germany and abroad.
The Challenge
Deutsche Leasing plans to work more closely with startups in the future. In order to gain a first impression of current market developments that might be relevant for Deutsche Leasing's business, a market screening should be carried out and a day organised in Berlin to get to know these startups.
The Measures
Assignment of Ambivation with implementation and organization (see also Startup Tour)
Joint coordination of the objectives of the market screening and the day on site in Berlin
Development of a list of 16 new start-ups that have entered the market
Invitation of four startups from different industries
Realization of the Startup Matchmaking Tour with photo documentation
The Results
+ Perfect Fit
Rapid identification of startups that can change Deutsche Leasing AG's business activities
+ Network
Getting to know innovators and the startup scene in Berlin personally
+ Awareness for Startup Collaborations
Identifying opportunities for future collaboration with startups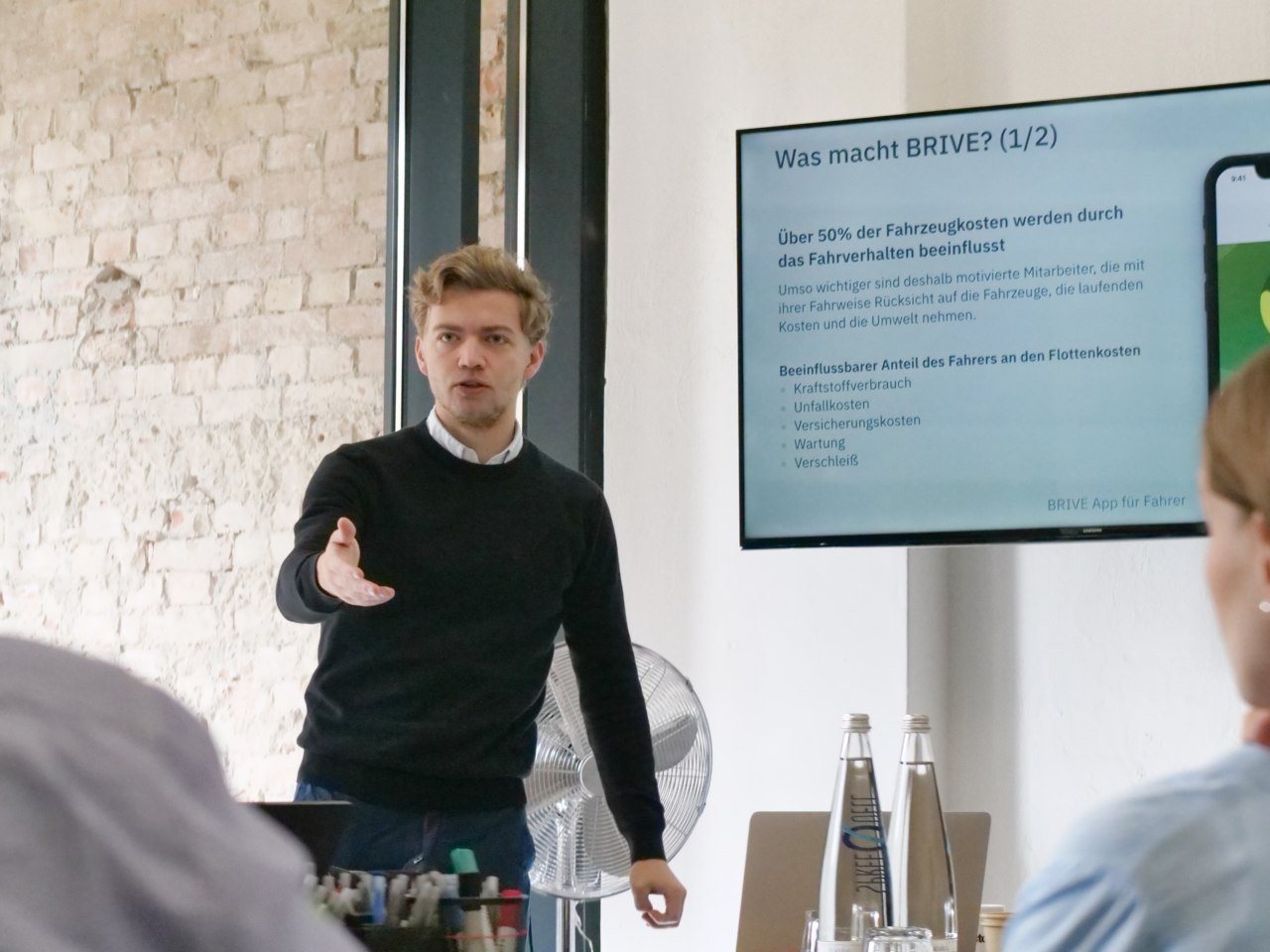 How does the Deutsche Leasing benefit?
"The Startup Tour with Ambivation was a great success and everything was very well organized on site. Our CEO Kai Ostermann found the day very successful and exciting, too. The 16 startups that Ambivation scoutet for us were all suitable and we found it very difficult to make a final selection. Whether collaborations with the startups will develop will be seen next year. I would definitely do a startup matchmaking tour of this kind again."
– Sven Siering, Head of  Digital Innovation Unit, Deutsche Leasing AG
How does the Startup benefit?
"The meeting with Deutsche Leasing AG was exciting for us in the run-up, as we were well aware that the business model of FACTUREE, as an online manufacturer with a large paver network, could conflict with the interests of Deutsche Leasing:
Through our intelligent supplier matching, we ensure an efficient allocation of resources and thus prevent free capacities from remaining unused by the companies in our network. However, this also has the side-effect that fewer machines have to be procured in total – ergo also leased.
However, it quickly became clear during the dialogue that there was also great potential for future joint cooperation. Both our detailed knowledge of the machine inventories of our production partners and our position directly "at the pulse of the economy" can be of use here. We would like to remain in contact with Deutsche Leasing in order to explore further cooperation possibilities.
The fact that the meeting was made a "top priority" by the participation of CEO Kai Ostermann showed that the changes associated with the ongoing digitalization of production are being taken seriously and opportunities are being recognized. This makes us happy and encourages us to consistently pursue the path we have chosen."
Benjamin Schwab
Head of Sales and Marketing FACTUREE – der Online-Fertiger
Deutsche Leasing AG has used the following products from us:
CONTACT INFO
We look forward to hearing from you.

Ambi-Vation GmbH
c/o Factory Works GmbH
Rheinsberger Straße 76/77
10115 Berlin