Cooperation between startups and medium-sized companies (Mittelstand)
The Humboldt Institute for Internet and Society is located in Berlin and is concerned with innovation and digitization, among other things. In the context of a study on cooperation between start-ups and medium-sized businesses, an interview with Christoph Baier, founder and managing director of Ambivation, took place. He explains why cooperations make sense for both start-ups and medium-sized companies, what added value they offer and also what differences there are to cooperations between start-ups and large corporations. You can read the complete HIIG study on cooperations between start-ups and medium-sized businesses here.
Which ways and possibilities are best suited for a successful mutual identification and approach?
The first step is certainly that both have an understanding for each other. Both companies and startups should know who they are talking to. In the context of small and medium-sized businesses, they have special expectations. Especially the communication of the startups is very important, e.g. how they address the SME. There is the question of which format is the right one for medium-sized companies to get to know. Events and Speed Dating are partly rather unsuitable. For the middle class a personal relationship is especially important. This can be established via different formats, in an expert context or as part of a Startup Matching Tour, where relevant conversations can be held.
According to which criteria can suitable startups be selected or evaluated? Which best practices worked best for them?

The selection criteria for start-ups in a collaboration with medium-sized companies are relatively difficult. It is a great complexity that starts with the fact that you have to fit together professionally. If a midsize company is now in manufacturing, for example, then the start-up must fit the needs of the company, i.e. either produce, or perhaps the midsize company is more interested in software technology. On the other hand, it must also fit personally, the discussion should take place at eye level and there must also be a trust built somewhere so that a personal relationship can develop. These are factors that are relatively important, in addition to the purely technical, for a successful collaboration. Then it is of course methodically also important that the startup works professionally. Because there are also start-ups that do not keep to agreements or do not deliver on time and reliably. Of course you have to pay close attention to this. Some of these factors cannot be evaluated from the outside. You simply have to give them a chance if the start-up does something exciting that you want to get to know. These are then quasi different levels for evaluating Startups.
.
What forms and formats for collaborations are, in their view, particularly suitable for collaboration between start-ups and SMEs and why?
We see different variants of cooperation. The classic forms of cooperation, which really create added value for both sides, are of course customer, supplier and research cooperation. Here it is simply very clear what the common goal is and each partner knows what they have to achieve. Usually this is documented and at the end of the day you have, for example, an offer or a research cooperation. In addition, there are other forms, e.g. investments, in which medium-sized companies can invest in start-ups and participate in the success of the start-up. This is often combined with a business cooperation in one of the mentioned areas (customer, supplier or research cooperation). Then there are some special forms and exceptional situations. In the area of human resources, for example, startups are sometimes taken over by companies because they have a great team and not because the company thinks the business model or product of the startup is fantastic. This is often the case, especially in the technology sector. There are also variants in which one creates an exchange, for example via accelerator or incubators, and simply gets to know startups. For the topic of exchange, you can easily create a format with an event, for example, where startups and companies can talk to each other. Because it is an expert event, both parties can exchange information at eye level. The startup can present its new technologies and the company can bring in its established technologies, so that one can exchange views on a topic in its industry, get to know each other personally and build a relationship.
How can first talks and match formats look like to find out if it could be a fit between your start-up and the medium-sized company?
During the conversations themselves, it is important that both can get to know each other in a natural context and that it is simply personal. For example, we offer a format that we call the Startup Matching Tour. This is about identifying beforehand which startups are relevant and could be suitable in terms of content, and to enable personal exchange in the appropriate context. This is followed by an introduction in which the start-up presents its services and the medium-sized company shows what it is particularly strong in. The more trust there is, the more people talk about the challenges they face in their daily business. If, for example, the challenge of the start-up is that it needs more growth capital and a concrete problem has not yet been solved in the SME sector, a common goal can be identified to make the cooperation successful. This is one possible format. It is particularly suitable for medium-sized companies because you take the time to build a relationship. In the corporate sector, on the other hand, we often see Startup Speed Datings, where an initial contact is established within 3-5 minutes.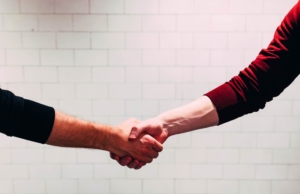 How relevant is cooperation with medium-sized companies for startups in general?
For startups, it is extremely valuable to work with a medium-sized company. On the one hand, this is of course due to the fact that medium-sized companies do not yet have the size of large corporations. For them it is often not attractive to work with young start-ups that are in the early stages of their development. On the other hand, it is also often difficult for corporations to work with start-ups because they have stricter requirements in certain areas, such as compliance or data protection, because a lot of processes and structures have to be taken into account. Small and medium-sized companies can be very good lead users who are the first to buy, use, develop and market a product. There are the most diverse forms of collaboration, so SMEs play a very important role. On the other hand, it has to be said that in the past, SMEs have not been so open-minded and visible that it is easy to establish business relationships there. Because the SME sector is a personal relationship, which is particularly important, this also means that it takes a long time to build it up, and this does not happen overnight.
Why could cooperation with medium-sized companies be preferred to cooperation with large corporations?
For start-ups, it can be more interesting to work together with medium-sized companies, because once they have established the relationship and are convinced of it, they can make decisions quickly. Often you talk directly to the managing director and he can of course make direct decisions, it doesn't go through several hierarchical levels like in a large corporation. This means that when it comes to speed, the medium-sized company can be convincing as soon as the relationship has been established. The relationship itself takes time. At the same time, the SME has many customer relationships of its own, perhaps also its own technology experience or certain resources that the start-up does not have, for example customer access or capital, which in turn helps the start-up to grow faster. If the form of cooperation is cleverly knitted, both sides can profit greatly from it, and the SME, for example, can also grow with the start-up.

About Ambivation
Ambivation connects innovative companies and startups for cooperation and innovation partnerships. As an innovation consultancy and matchmaker, Ambivation promotes cooperation between established companies and startups within the framework of concrete customer, supplier and research partnerships. We support companies in the identification of needs, startup identification, startup evaluation and cooperation initiation with startups. Formats such as research on relevant startups, startup monitoring, strategic cooperation consulting or event formats such as startup tours serve this purpose. Our monthly newsletter also provides information on current examples of cooperation and events.