Urban Mobility: Startup S O NAH solves parking problems for cities and companies
Finally, no more endless searching for a parking space and finding the fastest way through the city centre! – With a Machine Learning Sensor platform, the Aachen start-up S O NAH solves numerous problems related to urban mobility. The sensors can be attached quickly and easily to traffic lights, street lamps and buildings and provide all the data needed to identify free parking spaces in real time and thus better guide the traffic flow. In the future, further data protection-compliant computer vision algorithms can be implemented on the S O NAH AI VisionsensorRed, for example to detect traffic jams at traffic lights or to pass on the degree of street pollution to the city's sanitation department.
We spoke with co-founder and COO Thomas Grimm about the new technology and current cooperation projects.
Thomas Grimm (l.) and his Co-Founders
Thomas, one question right from the start: When it comes to cameras in public spaces, data protectionists are quick to take notice. Why does your system still work?
We installed cameras and a computer directly behind them. That means we don't send photos anywhere, but the pictures are processed live into information about the status quo of the site – occupied or free – which the system then sends to our backend 24/7 with GPS position and time. Similar to a small telegram. Personal data is not generated. So we are DSGVO-compliant and can therefore set up our sensors anywhere.
Who benefits from your system?
We cooperate with companies, but also cities and semi-public organisations like public utilities. Currently we are active with the system in Germany, Holland, Austria and Italy. Further countries are to follow.
In the B2B area we offer parking management end-to-end services. Above all, we position ourselves as a sensor manufacturer that enables other service providers to include AI technologies in their service portfolio and improve their value proposition on the market.
Cities should be places worth living in. In fact, we have air pollution problems, mobility problems and often far too many people in too small a space. We want to help solve the parking search field problem by digitizing urban space. This means that we are also digitizing parking spaces for cities, helping to reduce inner-city traffic by up to 30 percent, for example, and even generate additional revenue through data-driven business cases.
Let's stay with the companies for now. Can you give a practical example of the advantages your system offers companies?
Sure! Let's take the example of a large car manufacturer. They have up to 45,000 employees at one location. Finding a parking space can be correspondingly time-consuming and stressful. For the companies the question then sometimes arises: do we build an additional parking garage because people can't find the last 100 free parking spaces in the corners that are hard to see, or do we rather build an office building that is much more attractive for the customer in the value chain.
With our sensors we identify free parking spaces, regardless of whether they are marked or not. Every employee can access this information live via our app. If the data analysis shows that a significant proportion of parking spaces are not used at all, they can even be sublet to third parties if required.
And what advantages do you offer cities?
The special thing about S O NAH is that we can solve many problems with one sensor. Our system not only displays available parking spaces, but is also suitable for measuring traffic flow and provides our municipal partners with a solid database for decisions on the design of urban mobility.
Our sensors provide answers to questions such as: "What is the parking pressure in a particular street?", "What is the average length of time cars spend there?" and "Does the parking pressure go hand in hand with commuting or is it caused by residents? In this way, data-driven decisions can be made as to whether new parking zones for residents are necessary or whether incentives need to be created to encourage car owners to use the car park.
With S O NAH we are already represented in numerous German cities, including Aachen, Düsseldorf, Ludwigsburg, Munich and Berlin. Our cooperation partners can use our standard functions for parking space and traffic flow digitization or take advantage of additional services, e.g. to detect potholes and road pollution. We are also open to external developers who write computer vision algorithms for us that can be implemented on our platform. There are many companies that specialize in the context of machine learning and artificial intelligence. This will enable us to offer even more analysis services in the future without having to adapt the hardware. – Quasi "over the air".
In the meantime, you'll even be involved before new quarters are built. Can you tell us a little bit more about your cooperation with the international construction and real estate consultancy Drees & Sommer?
The construction industry is in a state of upheaval and therefore an interesting case for us. Entire quarters are being developed in which a new type of mobility is to be integrated – as part of building management. We came into contact with Drees & Sommer through an event organized by Smart Commercial Buildings GmbH. In several meetings we then looked at how we can create added value in the construction industry with S O NAH, for example by integrating the digitalization of parking spaces as early as the planning process. Through digitalisation, for example, I don't have to provide 200 parking spaces, but only 180, so I can save money for other things.
How did your cooperation continue?
We tested various pilot projects, gave each other feedback and showed Drees & Sommer customers at trade fairs with live installations how the system works. A great example of cooperation was the digitization of parking spaces from the office building roof (non-destructively attached) of the "Smart Logitstics" cluster.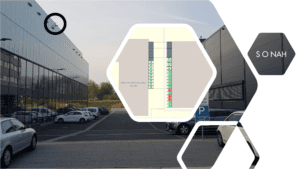 Together with other partners from industry and science, we are now starting a 4-year research project together with fir at RWTH Aachen University. The aim of this research project is to jointly develop new technologies and services for the topic area "Park & Charge" within the ecosystem and to bring them to the market. In the future we assume that charging stations will be used as mobility and service points. This concept should go far beyond that of an "e-fuelling station". For us as a young company this is a long-term and future-oriented commitment.
What is your vision?
The passenger car is still the first choice when it comes to mobility. Once the suburbs have been digitalised and the change to public transport has become convenient, our inner cities can one day be car-free.
Contact
Website: sonah.tech
LinkedIn: Thomas Grimm

About Ambivation
Ambivation connects innovative companies and startups for cooperation and innovation partnerships. As an innovation consultancy and matchmaker, Ambivation promotes cooperation between established companies and startups within the framework of concrete customer, supplier and research partnerships. We support companies in the identification of needs, startup identification, startup evaluation and cooperation initiation with startups. Formats such as research on relevant startups, startup monitoring, strategic cooperation consulting or event formats such as startup tours serve this purpose. Our monthly newsletter also provides information on current examples of cooperation and events.