Smart Governance: Startup Polyteia helps cities manage data
Can't you do it faster? People often – and sometimes rightly – complain about the German bureaucracy. Public administration is lagging behind, especially when it comes to digitization. Data is stacked in filing cabinets and Excel tables of individual departments instead of being used for decisions. No wonder, then, when one hand does not know what the other is doing. The Berlin startup Polyteia wants to change that. Using an intelligent control platform, the team brings together information from a wide variety of systems. – And it gives the decision-makers a completely new basis for their actions. We talked to co-founder and managing director Faruk Tuncer about his personal experiences in cooperation with cities and communities.
Faruk, you are currently activ in Brandenburg, Lower Saxony and Baden-Württemberg. What situation do you find in the cities and communities when you present your product?
Cities and communities fulfil a lot of tasks for the citizens: child day care, schools, maintenance of the infrastructure, economic development and much more. Nevertheless, we hear again and again from mayors that they lack data to make decisions for these tasks. How many daycare places do I need? How can I use financial resources more effectively? How can I plan for the future?
Where does this come from?
We have researched and determined: Actually, the cities and municipalities have enough data. They collect them only in different systems, which e.g. record personnel, kitaplaces or the household. The information is trapped in silos – in other words, the systems do not talk to each other. If you want to make a decision, you have to ask three or four people. They then have to make data exports and all this is then laboriously summarized in one place by hand. That is frustrating. We solve the problem by systematically and automatically merging the data, aggregating them and making them available to decision-makers at the push of a button via a dashboard that is updated daily.
Do you have an explanation for the fact that Germany in particular is lagging behind in terms of digitisation?
In some cases there is a lack of legal consolidation, but on the other hand there is also a lack of standardized interfaces. In addition, the federal system offers a lot of freedom for local decision-makers. As a result, digitization in administration in Germany is progressing more slowly. Our local contacts also confirm this.
How do you cooperate with the cities and municipalities?
We build a process in which tables and PDFs are captured, remove certain data that we don't need, such as the personal reference – if it is captured at all – and store the whole thing in a central database.
Can you tell us about a recent example?
The most recent example is the city of Goslar, where we will soon be releasing a module for controlling personnel in internal administration. According to media reports, the city approached us directly. We then went there, presented our product, checked where the needs were, showed what we were planning, and then tackled the whole thing together. There were no major challenges on our part. Of course you have to deal with the fact that there are other data centers and systems in Lower Saxony, but that is no problem for our work.
What will be easier for Goslar employees in the future?
Through our system, the city council is regularly informed about personnel situations, staffing plans, certain quotas such as gender distribution or sick leave. It used to be very difficult to collect such data. Our module can answer many questions in this context in great detail. The information is just a click away. The administration is more sovereign and the council members are up to date. For example, you can see when many of the city's employees will retire in the next ten years and when there might be a shortage of staff. Or whether there are certain departments or groups in which the sick leave rate is high – and where something can be done about it. So tasks are derived from the data.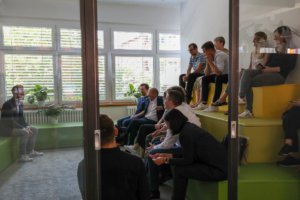 What particular challenges do start-ups that want to work with cities and municipalities have to face?
Project management is still a challenge in many places. Employees are trapped in hierarchical structures. The advantage for municipalities, however, is that they take a very close look at the start-ups and are very loyal customers once they have made up their minds.
What did you learn from working with the cities and communities yourself?
I am always amazed at what cities and communities with the limited financial resources they have can do – from fire safety to childcare. No company would build such a broad portfolio. That's impressive and equally challenging. That makes it all the more exciting for us to help make the whole thing even better.
Contact
Website: www.polyteia.de
LinkedIn: Faruk Tuncer