"Dino meets Unicorn" – The new book on cooperation between companies and start-ups
In an interview with Christoph Baier from Ambivation, book author and Professor Bastian Halecker talks about his new publication "Dino meets Unicorn". He reveals the basic idea behind the book, the experiences he has gained and how things will continue in the future. You can order the whole book "Dino meets Unicorn" at Amazon. 
Christoph: I am very pleased that we are talking about your new book today. Why don't you start by introducing yourself and tell us what motivated you to write "Dino meets Unicorn".
Bastian: The book has now been out for a fortnight, but the content it deals with has been on my mind since 2015/2016, since when I have been active as a connector in the Berlin start-up scene. I am based in Berlin, where I have been actively networking and building bridges to bring together start-ups and established companies from other cities and regions. With this business model I have also earned money and expanded my network. I learned a lot of things there and I am still learning.
And I am surprised if fundamental questions still arise in discussions from the side of corporations or medium-sized companies. Some companies are setting off now, in 2020, and are only now beginning to deal with innovation. They often have a completely wrong understanding. This starts with questions of principle, such as "What is a start-up?" or "What does a start-up do? These questions arise in every other conversation. In other words, certain basic issues need to be clarified in order to be able to better assess the situation from a corporate or SME perspective. Or also with regard to disruption, change, digital transformation, where do I actually stand now? From my point of view there are so many misunderstandings, also on the start-up side. That was the main motivation. Even startups are not per se immediately familiar with every topic and know what it is, what phase they have to go through as a start-up and what the founders' motivation is. The corporate world offers them access to strong partners, industry knowledge, sales power, etc.
But if both sides live in a world they may not understand very well, but still want to work together, it is important to enlighten them at this point. That has been the main motivation. I have experienced and seen so many things, stories and insights, and it is a matter of my heart to clear this up. Dino, i.e. corporate, and Einhorn, i.e. startup, you have to bring them together and tell them what they actually need to know about each other. I then reduced these to fifty-five. That could have been even more, but I said I'd start there and clear things up.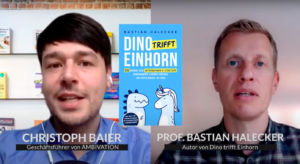 Christoph: I can also confirm this, there are many challenges. In your book there are fifty-five theses to read. What are the core statements from "Dino meets Unicorn"?
Bastian: Exactly, with the aim of clarifying things, I also make clear statements. One of them is "Collaboration is the new competition". If you look into the future now, the next five to ten years will be very challenging, because I no longer believe in competition. So if both sides only think about competition, that is quite difficult, because the dynamics have shown that we need to work together more. The speed of change is also increasing. How am I supposed to manage that alone, no matter which side I'm on now? So, rely on collaboration.
The second big statement I always make is: We have too many solutions and too few problems. For someone hearing this for the first time, it might sound a bit strange. But basically we have technological solutions without end. What we need are problems, or access to them. These are mainly in B2B, are always very complex and technology driven. Conversely, this means that corporates have the problems or access to the problems. The unicorns, i.e. the start-ups, have the technologies and the mindset. So from there, problems are the better assets.
But a problem alone is worth nothing, it is just a great starting point. From my point of view also the most important one, but then you need technology, which is already there in many cases, to combine this. When it comes to formats, activities and working together, there is not one solution. That has to be said clearly, there is always a portfolio of activities that has to be tried out experimentally. In the end, it is always a matter of understanding, for example in terms of time and speed. The start-up looks at the clock, the company looks at the calendar. You can already see one of the differences. These are elementary, because if you want to work together, you have to coordinate with each other. Especially when it comes to problems and technologies that are large, complex and dynamic, you have to bring them together.
Christoph: The metaphor with the clock is a very nice example. What role does Corona play for the theme "Dino meets Unicorn"?
Bastian: When the first Corona bomb hit, I naturally thought that the topic has now been wiped off every agenda, just like the topic of sustainability, now there is only the Corona crisis mode. I felt that this was definitely the case for two or three months. Everything was stopped or was on hold. But in the summer, apart from the second wave we are now in, I think the topic was very much fired up. Because companies realised that the subject of entrepreneurship, the mindset behind it, dealing with the unknown, and this agile thinking is no longer just ascribed to start-ups. Entrepreneurship equals mindset, which is an important shift. This dynamic and speed of change is increasing all the time, everyone has experienced this, nothing can be planned anymore. The fact that all planning can be thrown out of kilter, and everyone is only going by sight, is frightening for companies. Welcome to the startup world.
However, I also find it an exciting fact that crisis also means opportunity. Markets emerge, diffuse, disappear, disrupt and suddenly a new demand emerges, which of course offers a great opportunity. And, that is the essential thing, the balance of power has fundamentally changed. As a result of these shifts, suddenly it is not so much size that matters, but rather agility, technology or customer access. All of a sudden, this takes on an insane dynamic that nobody would have thought of before. Corona is therefore an accelerator for the entire digital transformation.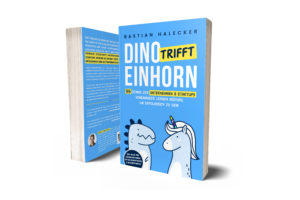 Christoph: Super. Now that you've published the book and I'm sure you've already received some feedback, I've already read a few articles on LinkedIn. What kind of feedback did you get there?
Bastian: Basically the feedback was positive, which makes me happy. Of course I always wish for feedback that helps me to improve, that's always possible. I have been using it since the middle of October and I think it hits the navel of time. I don't want to say that books are making a comeback, they have always been important. But you have the feeling that with a book like this you create something tangible, that's what people appreciate. Besides, this dinosaur and unicorn is a good description, people think it's great because it's a bit more catchy. And when I tell the whole story around it, it becomes clear to everyone what relevance the topic has.
Nevertheless, I always thought that the work of a book author lies before the publication date, that is, the creation. But the post-publication period is much more intense, because you have to do this micromanagement right now and take care of the marketing yourself. I do self-publishing via Amazon, i.e. Book on Demand. That is an exciting experience, but conversely it also means that I have to continue to spread my reach. So it's not the typical money-making model, I really do it to get my story into relevant circles. This includes start-ups, corporates, or even politics. Just to understand and apply it, and to do some educational work.
Christoph: Wonderful. Bastian, what has been your greatest learning experience while writing the book?
Bastian: Actually, the greatest experience is to reflect all the knowledge you have gained every day in projects, discussions and start-up tours. To think about what is the core? What is the core message you want to place? And how do all the individual fragments fit together? Writing this down then is also not quite trivial. But to do this in a pointed way, and for example to this aggressive "corporate does too much design thinking and too little doing", to put a handle on it so that someone reading it can immediately imagine something underneath, that was not always easy. But I think this is the most important experience. It is good to have a small toolbox, both for myself and for others, so that I can take it out and place it. And indeed, the book format with the cover around it is also very valuable. Because once you've written it and explained it to someone, that's all you can really do for yourself. Your principle of faith becomes extremely sharp.
My offer to all companies is also always, I also like to do an hour of live session with you online. Currently I also do live readings, fireside evenings, I am at online seminars and webinars, because as I said, I am not only interested in the book. It's just about having something to touch, but then you have to talk about it and contextualise it.
Christoph: Perfect, then we now have a short introduction to your book. I hope it has aroused your curiosity and that it is worth reading it. And maybe finally, what are the next steps, how do you plan to proceed?
Bastian: The book is rather a sidestep. What I will work on for the next five to ten years, and what the book also predicts, is actually B2B. There I will come out more and focus more on B2B. And also to take the companies out of it, and to say that you have burned a lot of money and learned a lot in the last ten years, but now let's solve the real problems.
So I've gone so far as to found a new entity called the German DeepTech Institute. We want to be an institute that does basic research. So everything around DeepTech, we focus very much on AI topics, but also say we have the technologies. Then we call out into the forest, just like we described in the book, and ask the industry where their problems are. It is important p
To talk about problems, but also to say that we do not want a single solution, but a scalable one. If a problem that a medium-sized company, municipal utility or machine builder has, everyone else has the same problem, then it becomes interesting. If it is complex, if there is a good technology, something data-driven, scalable, then it becomes interesting.
I will continue to work on this in my role as a connector to make this possible.  I am always knocking on companies' doors and am ready to talk about the book, but also about the core. After all, small and medium-sized businesses have good cards. They have good access to problems and good domain knowledge, they simply have good assets that are important.
The manhole cover manufacturer, for example, has manhole covers that are installed everywhere. How do we get that into a smart sewage system? So that we can supply the entire regional cities, towns and municipalities and control the entire wastewater management digitally, platform-based and data-based. We are not doing this as a service provider, but are going along with it, because as the German DeepTech Institute we have an entrepreneurial holding company behind it, with which we also co-finance.
Christoph: Perfect Bastian, that sounds super exciting. I'm happy to accompany that journey and to go the way together. Thank you very much for taking the time to present the book and see you soon!
Bastian: Always welcome, see you soon!
Here you can watch the Videointerview in full length.