SME meets startup: How to get to know a suitable startup
SMEs are often specialised in niche products and are very good in their field and therefore in demand. As the order situation is therefore usually good, some SMEs see no need to innovate or restructure their business. However, the market is evolving, becoming increasingly innovative, digital and demanding ever newer and better technologies.  Therefore, successful SMEs should also address the issue of innovation. Start-ups can offer considerable added value here by bringing a little wind into medium-sized companies with their new ideas, concepts and products.
Benefits of cooperation between start-ups and SMEs
Due to their size and the resulting more complex corporate structure, decision-making processes in corporates are often extremely lengthy. They cost a lot of time – a resource that is limited for start-ups. This is where it can be attractive for start-ups to work with SMEs, as decisions can be made much faster. However, the SME should also take care not to take too much time.
A start-up cooperation can be useful for small and medium-sized enterprises, for example, if the development of the corresponding solution in-house would be too costly or if it is outside the core business. Ideally, a cooperation offers a win-win situation for both partners, because: start-ups bring innovative ideas, flexible and agile work processes, whereas medium-sized companies bring resources, many years of experience and valuable customer contacts. The way in which the cooperation between startups and SMEs takes place can vary. Different forms can range from classic customer or supplier relationships, through research cooperation to innovation partnerships.
Challenges and solutions 
In one respect, SMEs and start-ups are often very similar – both focus on specific solutions and niche products. Otherwise, however, there are some differences, particularly in terms of working methods, structure and corporate culture. Therefore, there may be some hurdles in the cooperation between start-up and SMEs. In order to avoid these, special attention should be paid to a few things.
These include a clear management of expectations, a clear allocation of tasks and transparent communication. There should also be a willingness to compromise on the part of both parties, as well as mutual understanding. In addition, everyone should know what his or her goal is in the cooperation and communicate this openly. It should also be determined in advance how the profit will be shared out in case of success. Here you will find more tips for cooperation between start-ups and medium-sized businesses.
How do I get to know start-ups as an SME and what are the selection criteria?
As an SME you should consider a few criteria when selecting the start-up with which you will enter into a cooperation. First of all, the most relevant question is: How suitable is the start-up's solution for the respective need? Here, a start-up with an individually suitable solution should be chosen, which can be implemented into the company structure with little effort.
But regional proximity or possible language barriers can also play a role and should be included in the decision. A startup should not only work professionally and reliably, but also be suitable for interpersonal relationships. Medium-sized companies attach importance to a personal relationship and a good basis of trust. Although it takes time to build this up, it is worth it in later cooperation.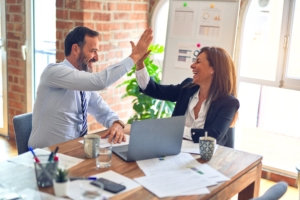 However, in order to find a suitable cooperation partner among the wide range of offers, start-ups and SMEs must first find each other. As a medium-sized company, there are numerous opportunities to get to know startups. These include attending start-up competitions, innovation contests, start-up speed dating events, or the announcement of an innovation or start-up challenge. Since this wide range of offers can quickly become confusing, we would like to go into more detail about the various possibilities in our series of articles "Get to know Startups".
Another way to get to know the right startup is to use the services of an intermediary. We at Ambivation also act as a middleman or bridge builder, and support medium-sized companies through our matchmaking service. In this context we offer our Startup Scouting, Startup Monitoring and the Startup Tour. Intermediaries can not only help in the search for a suitable start-up, but also in the identification of needs in advance and support them through cooperation management after a successful match.
A cooperation between startup and SME can therefore offer great added value for both sides. In order to avoid potential problems and hurdles in the cooperation, it can be useful to have the support of an intermediary who helps with cooperation management. In addition to the cooperation process, such intermediaries can also help in finding the right start-up and in matching. We will present further possibilities to get to know startups in the next articles of our series "Get to know startups".
If you have any further questions please contact us, we will be happy to help you! Here you can get to our contact form.