Agricultural innovation: Market leader John Deere works with startups
In order to always be one step ahead of the competition, it is essential to deal with innovative technologies. John Deere, the world's largest manufacturer of agricultural machinery, recognized this many years ago. Business Strategy Manager Torsten Klimmer and Public Relations Manager Ralf Lenge from the Mannheim office give us an insight into working with startups in an interview.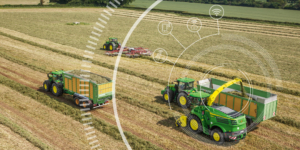 How did John Deere decide to work with startups at an early stage?
Klimmer: Compared to large companies, startups have the advantage of being particularly agile and have very innovative technologies for special applications. In contrast, John Deere is characterized by a very extensive portfolio. In addition, we have a strong sales and marketing organization with a nationwide distribution network. Both sides benefit in this way – a classic win-win situation!
What areas do the start-ups you cooperate with come from?
Lenge: We don't just sell steel and iron, we sell intelligence. Digitalization therefore plays a decisive role for us. For example, we are looking at start-ups in the fields of agronomic sensor technology and machine automation as well as young companies that work with drone technology. Our long-term goal is to enable farmers to treat each individual area, sub-area or even plant specifically – precision farming taken to the extreme! This is all about giving plants exactly what they need and saving on production resources. Another major issue is environmental protection. Reducing the use of fertilizers and thus relieving nature is a goal that society demands of agriculture. For us, this becomes a driver of development.
Klimmer: In this context, documentation also plays an increasingly important role. The consumer wants to know how and where his food is produced. This is where digitization can help to record what the farmer does in his fields and thus provide proof of quality.
How do intelligent machines make farmers' everyday lives easier in practical terms?
Lenge: Soil quality can vary greatly in one and the same field. In order to achieve the best yield, you need to apply more fertilizer in certain areas. This is no problem with an intelligent vehicle. They can use various parameters that they measure beforehand to determine what the soil and the nutritional status of the plants look like. The farm manager then determines how much fertilizer he wants to use on the sub-areas. Using an integrated application map, the tractor or fertilizer spreader knows how much must be spread in the various areas. We are committed to anchoring this method of working even more firmly in practice.
Can you tell us a little more about one of your start-up cooperations?
Klimmer: Sure. One of several examples is the Solorrow company from Darmstadt. We work together with this company in the field of digital technology. Solorrow provides a mobile app that can be used to create an application map based on satellite data, e.g. for fertilizers. The map can be displayed and edited in the John Deere Operations Center, our operations center. It is then automatically sent to the agricultural machine and controls it.
Another cooperation is underway with the Taranis company. This involves satellite images, but alternatively also drone images. The startup has succeeded in detecting fungal infestation as well as harmful insects and controlling a pesticide sprayer for control.
Business Strategy Manager Torsten Klimmer and Public Relations Manager Ralf Lenge
How do you make contact with startups like Solorrow and Taranis?
Klimmer: Once a year we organize a major conference called "Develop with Deere" to which we invite companies from the field of digitization. The companies can introduce themselves and get to know the possibilities that our Operations Center offers.
But we also have our own Startup Collaborator Program, which we use to approach startups in a targeted manner. A third possibility for us is to work together with companies like Ambivation and get to know other startups.
What is the next step when you enter into a cooperation?
Lenge: We initiate pilot projects where we can test technologies. For this purpose, we use so-called selected farms where we can carry out tests directly in the field. Then we decide to what extent cooperation is useful. Either we offer the start-up's product through our channels or we enter into a deeper partnership by investing in the company or developing a joint technology.
How do you deal with the risks involved in cooperating with a company that is new to the market?
Klimmer: We carry out a very extensive technical examination of the product. We also take a look at the company's structure and profitability. And last but not least, we provide our startups with mentors who advise and support them right from the start.
Contact
Website: www.deere.de
LinkedIn: