Industry 4.0 and IIoT Startup Cooperation – Hannover Messe Digital Days
In the second part of the discussion round within the framework of the Digital Days of the Hannover Messe, everything will focus specifically on cooperation between start-ups, companies and medium-sized businesses, in the areas of Industry 4.0 and Industrial Internet of Things. In an interview with Christoph Baier and Madeleine Mickeleit, Philipp Becker and Sigrid Rögner talk about their experiences in working with start-ups. They explain what needs to be taken into account when implementing digitization projects, what hurdles are encountered and how these can be overcome. On our blog you will also find an article about IIoT startup use cases. You can find the full length video of the talk show here.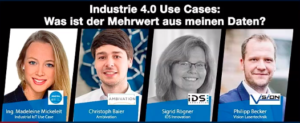 Christoph: Once we start talking about the role of start-ups, do we even need them?  
Sigrid: Of course you need them, that is a resounding yes. Even if you look at all the developments that are going on right now, you can still see where medium-sized companies stand and what role startups are currently taking on. It is not for nothing that a relatively large number are being bought up. The start-ups are the ones with the cool ideas and new business models, which might show us what other types of use there are. Simply because they come from university or technology fields, from research or development. For example, we are a hardware specialist with cameras, and adding software to them is a combination that we don't really do.
Christoph: So you can say that the start-ups are doing pioneering work, so to speak? 
Sigrid: Definitely. I actually claim that disruptive innovation would not be possible without start-ups. And when I look at who is now starting to build platforms, and upload stuff and sell it, even in the industrial sector, those are startups again. Similar to FlixBus in the automotive sector, but transferred to industry. This is now also an issue where medium-sized companies will not dare to come so quickly.
Christoph: What concrete experience have you had working with start-ups in the Industry 4.0 context?
Sigrid: Let's take the topic I just mentioned, that we are the hardware specialists and see a lot of startups in the software area. On the other hand, when hardware appears in the startups, you quickly get the message that this was not the actual idea, but that it was only done because there was nothing else. And we love working with startups. But the problem is of course, even for established companies, that it is not always predictable how long the startups will continue to exist. When I get a startup for a process in the area of Industry 4.0, it is of course a question of whether it will still be there next year. That sounds a bit bitter now, but it's actually a topic where you have to think about and think about how to cushion the impact.
Christoph: And what thoughts did you have there? Because you regularly work together with startups. 
Sigrid: At the moment we are looking at applications, which are usually system integrators that work in principle in combination with us. We simply trust that the start-ups we look at are so good that they will make it. In addition, another possibility, if you really cooperate strongly with the companies, is that you can also buy software in case of an emergency.
Christoph: Philipp, what is your experience with startups in the Industry 4.0 context?
Philipp: In general there is always a difficulty with us. As a traditional mechanical engineering company, we are often not smart, lean and flexible enough for such cooperation to be effective. But that's not due to the start-ups, in most cases it's up to us. And I think that's the greatest freestyle of how to really make such cooperation work. If we then have to do a project report beforehand and the whole thing has to happen immediately, then that is something our own departments have managed to live with. What is always a bit difficult, however, is when this is the case with external companies who think completely differently than we do, who sometimes think a bit better. But let's take a look at the start-ups that are a few years older today, for example, where they have chosen the less flexible paths because they simply have to.
Christoph: Then we come to another topic. After all, it's also about sharing knowledge and know-how on approaches to digitization. Why do you think this is important for the European or German economy? 
Sigrid: I think there are two approaches. One is, when I think of the pictures in the AI area, for example, the camera gets smarter the more pictures I have and the more I have trained. So it would be great if you could share this material. But that could be difficult, because most companies don't want their data to go out in any form. That is of course still a problem. On the other hand, it is also the case that companies are starting to work together. You can see that nobody wants just a small part anymore, but you want the whole solution. Then you have to start sharing your know-how, but on a different level. This is an issue that is already working better than before, also because of all these accelerators where there are several companies.
Christoph: Philipp, what is your view on this?
Phillip: What was especially interesting was the sharing of data. In the meantime, we always talk very inflationary about this term, artificial intelligence. I don't use it, there is no artificial intelligence today. In the meantime there is the term weak artificial intelligence, that is the smear that was made so that we can use the topic AI. But if we really want to have artificial intelligence by definition, sharing this data is of utmost importance. Because if we really want to have the first self-learning systems that can learn more than today's machine learning, then it is also important that systems pass on information and experiences to each other and thus become better. This is exactly what we want to achieve with the so-called strong AI or super intelligence, and in my view, sharing data and information is an essential part of this. But maybe we in Germany are a bit more conservative, we are more careful with our data. That has great advantages in many areas, but we also often see in digitization projects that these are obstacles that would often not have been absolutely necessary.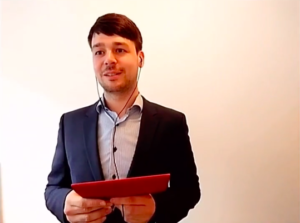 Christoph: Finally, can you give us some tips and tricks regarding decisions on digitization projects? Is there anything you should be aware of and what tips and experiences can you share? 
Philipp: As I said in the beginning, start, look at processes, never say: "We have always done it this way". If we have always done it this way, we don't know if we could do it better. I always get a bit jittery when I hear someone say: "No, we tried that ten years ago", "That didn't work", or people say: "We've always done it this way". These are clearly the wrong ways, I think this Open Mindset is incredibly important. That's where startups come into play again. If there is the possibility that someone external looks at a process without the so-called operational blindness, then the big advantage is that he doesn't know that it has already been tried in another way. He can then approach such a project in a completely different and unbiased way, which is an absolute advantage for the startups.
Christoph: Sigrid, what is your position on this topic? 
Sigrid: I can only agree with that. After all, that's actually what makes a start-up. That you don't always think about what you would have to do to finish, but actually try and test it. And I think you can learn a lot by talking to people who have already implemented such topics, also regarding mistakes you can avoid.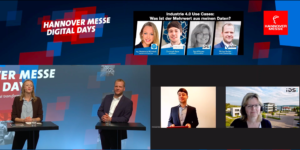 Madeleine: I have to agree with you, and also that one is quickly caught in tunnel vision when one is in an environment where one is working very well and very deeply. So it is also very relevant to get input from outside, isn't it? ? 
Phillip: That's why, for example, I think it makes a lot of sense and is important to look at the entire value chain in the digitization project. And if you listen to your employees with open ears, you often get most of the solutions mentioned. When a software solution is introduced, it must be so simple that the 18-year-old trainee can cope with it, but also the pensioner. The pensioner is often more technically skilled than the trainee, because he has already done a lot with the PC, which is still a bit difficult for the trainees. Our concerns are rarely directed at experienced employees.
Madeleine: What do you think are the biggest regulatory barriers to taking advantage of the digital opportunities?
Sigrid: I would actually see the DSGVO at the top of the list, because it has a lot of restrictions. But otherwise I see it exactly the same as we have just said. You just have to start and see how you can deal with such topics. Meanwhile there are very good tools available. That's the great thing, also in the startup area, if such hurdles arise there is relatively fast one, which has finished the topic then.
Madeleine: Philipp, what do you think? 
Philipp: I see it a bit differently. In my view, the DSGVO is not an obstacle, it is good that we have it. There are definitely a few hitches, I don't want to be an absolute defender of the DSGVO. Nevertheless, it is of course the case that the right to personal data, that of the employee, is very worth protecting. Perhaps this is not only a law for us, but also a guideline, so that we are always aware that we cannot always do everything we would like to. For example, when it comes to the Smartwatch, of course we are technologically able to track every employee who wears a Smartwatch to the point and along every route. But we do not want that. It's also about working transparently with the employees and discussing what would be technologically possible, but we still don't want to do it.
Watch the full-length discussion round on the topic of Industry 4.0 at the Hannover Messe Digital Days here.
About Ambivation


Ambivation connects innovative companies and startups for cooperation and innovation partnerships. As an innovation consultancy and matchmaker, Ambivation promotes cooperation between established companies and startups within the framework of concrete customer, supplier and research partnerships. We support companies in the identification of needs, startup identification, startup evaluation and cooperation initiation with startups. Formats such as research on relevant startups, startup monitoring, strategic cooperation consulting or event formats such as startup tours serve this purpose. Our monthly newsletter also provides information on current examples of cooperation and events.