Cooperation in e-scooters: Startup TIER Mobility conquers German cities
After the e-scooter hype of 2019, TIER now wants to establish Mobility electric scooters as a small but important vehicle for more sustainability in German city traffic. To this end, the Berlin start-up is entering into numerous cooperation projects with city administrations as well as local companies, associations and institutions. We spoke with City Manager Georg Grams about the TIER sharing model and gained exciting insights into the cooperation between start-ups and municipal decision-makers.
Georg, what is your vision for TIER Mobility?
In large cities, but also in medium-sized and small towns, traffic is constantly increasing. Many people only drive short distances, otherwise the car is stationary most of the time. Of course that's not efficient. With our e-scooters we want to offer an alternative by bridging "the first and the last mile", i.e. distances to the office, bus or subway. Our aim is to expand the mobility mix of European metropolises with an attractive new vehicle and help relieve the burden on city centres.
TIER Mobility has only been around since 2018, but in a short time you have grown enormously and have now hired over 500 employees. How do you actually manage that?
In fact, the situation has been challenging, both in terms of personnel, structure and logistics. But we have built up a strong team and together we have mastered all the challenges of the last few months. Even the Corona crisis we have survived so well. In contrast to other providers who had to withdraw their fleets from the cities, we were able to maintain operations in almost all cities throughout the corona crisis with over 40,000 active scooters. Another point is that our investors are not just financiers, but genuine long-term development partners.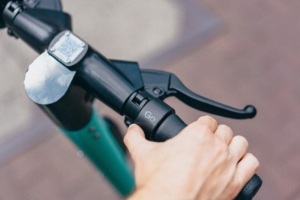 How is your offer being accepted by the various cities?
Some cities have literally been waiting for a young start-up to stir up mobility. Others are even more reticent. In general, we offer individual concepts to the decision-makers in the cities to convince them of the added value of micromobility. We started out in Austria first and then, when all the legal regulations were in place, in eight German cities. In Germany, the topic was still completely new a year ago, but we have been extremely successful over the past twelve months. Now it is a matter of establishing e-scooters as part of a sustainable mobility concept in the long term, and we are seeing massive increases in acceptance in the first year alone.
In the context of safety and inner-city order, e-scooters have been the subject of controversial discussion. How do you deal with this?
We have created project teams to deal with it. This has resulted in proposals that we have implemented. One example is our foldable helmet. Helmet is not mandatory for e-scooters so far, but in our app we recommend wearing a helmet from the very beginning. But if you want to use the scooter spontaneously, you don't necessarily have one with you. So the idea was born to integrate the foldable helmet as a new feature in our service and thus create an added value for safety.
The topic of inner-city order is a point that is repeatedly raised in our discussions with city councils. For this reason, we have installed a sensor that shows us whether a scooter is lying down or standing. We can also take precautions to ensure that our scooters can only be parked in certain defined areas.
Through our app and digital communication channels, we are also constantly working to educate our users. Each time a new user registers in our app, a series of easy-to-understand explanatory pictures, which cannot be skipped, are used to inform users of the most important rules of use and conduct. This also includes a note on how to park the scooters correctly after the end of the rental period. In case of doubt, our field staff will ensure that everything is in order.
As City Manager you are responsible for the cooperation with the city of Halle. Can you tell us a little bit more about this? How do you come into contact with the city authorities?
We have a small department of colleagues who are responsible for establishing initial contact with the authorities. Some of the team members have a background in politics, know their way around and are well networked. As soon as this contact is established, city managers like myself take over the organisation at local level.
What are the first steps when a cooperation is established?
In Halle, we first agreed on a pilot project or test phase. The Lord Mayor of Halle has passed on the topic to the colleagues from the city marketing department. At the time, the managing director of city marketing suggested that we should jointly develop an individual concept for Halle. After all, the people of Halle know their city best, they know how it pulsates and what challenges there are.
But we have also been on the road in Halle with e-scooters ourselves, looked at everything carefully, took photos and integrated the experiences into our concept. The pilot project enabled us to show how people move at what times. That was very interesting for the employees in charge. We were able to benefit from each other's data and on this basis we developed a plan that is still valid and will be further developed.
What does that mean in concrete terms?
We are always looking at how we can expand our radius of activity according to the requests of companies and individuals on site. In addition, through our cooperation with the cities, we are also approached by companies, associations and institutions. In Halle, for example, a hotel manager approached me: "We have 130 rooms, but only 30 parking spaces. Can't we provide our customers with your e-scooters?" We tested that and that's how our next cooperation in Halle came about.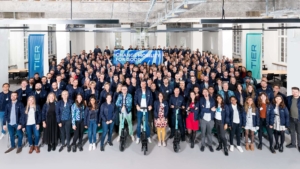 How do you convince decision-makers who have absolutely no idea what to do with e-scooters? How do you deal with the fact that decision-making processes are often lengthy?
It is often the case that cooperation partners misjudge the concept and the acceptance of the concept. They say that this is not relevant for us! That's why I like to take an e-scooter with me and suggest that we take a ride in front of the building. This usually surprises and convinces.
In addition, we always try to demonstrate a certain operational readiness to act. That means we show the authorities: "We're ready to go as soon as you are. We have the necessary experience, we have a team on site, we have a warehouse, we have the fleet, we are prepared and are just waiting for your "Go".
Contact
Website: https://www.tier.app
LinkedIn: Georg Grams

About Ambivation
Ambivation connects innovative companies and startups for cooperation and innovation partnerships. As an innovation consultancy and matchmaker, Ambivation promotes cooperation between established companies and startups within the framework of concrete customer, supplier and research partnerships. We support companies in the identification of needs, startup identification, startup evaluation and cooperation initiation with startups. Formats such as research on relevant startups, startup monitoring, strategic cooperation consulting or event formats such as startup tours serve this purpose. Our monthly newsletter also provides information on current examples of cooperation and events.