From customer service to production: BSH Startup Kitchen opens the door to the household appliance industry for startups
"We are startup-affine" – when it comes to innovation, BSH quite deliberately focuses on successful start-ups and their solutions. Since 2019, the Munich-based subsidiary company of Bosch has been working with the group's own venture client unit "BSH Startup Kitchen" to integrate smart solutions into new products and digital services. Co-founder and venture partner Lars Roessler coordinates the collaboration between the various BSH departments and startups from around the world. We talked to him about his exciting job and learned why startups should never underestimate the household appliance industry.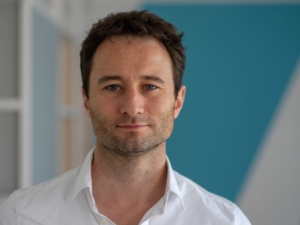 Lars, how did you decide to found BSH Startup Kitchen?
In BSH's Digital Business Unit, we deal with innovations on a daily basis – even those that are only just emerging and not yet established on the market. BSH Startup Kitchen gives us the opportunity to integrate such developments in a stringent, fast and efficient process.
Haven't you had any projects with startups before?
Yes, there were already some contacts in the startup scene. But it turned out that it was often difficult for the founders to find the right contacts to successfully place their solutions. As BSH Startup Kitchen we can now address the community with a consistent message and find the best internal contact point for founders. This is extremely important in a large, international company like BSH.
How does the cooperation process begin?
As an intermediary between startups and BSH, I am in contact with employees all over the world. My job is to identify problems that we can't solve on our own and to look for external solutions. Once we have found a suitable start-up, the first step is to launch a joint pilot project. We buy the solution for this purpose and have it validated by our experts. At the same time, the startups receive coaching from us to learn more about our processes and approaches.
How many startups are you currently working with?
In 2019 we carried out projects with 15 startups from Germany, Israel, Canada, Great Britain, Sweden and the USA and are currently continuing to work with them.
Can you tell us a little more about a cooperation example?
With pleasure! Together with the Swedish startup Mavenoid we have, for example, succeeded in optimizing the self-help section on our website. Suppose you have a problem with your washing machine. The display shows an error code, e.g. E507. After a short Google search, you will most likely end up on the Bosch online help page.
The Mavenoid team has developed an algorithm-based solution for this and adapted it to our purposes. The goal was to improve the way the customer is guided from the error description to the solution. During the pilot project in England, we were able to use real customer inquiries about defective washing machines to check whether the error correction rate would increase. And that's how it was!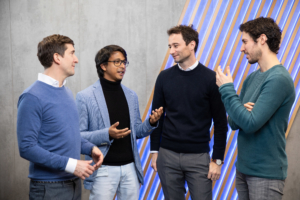 That sounds great. What's next for the start-up afterwards?
In the next step we prepare a major order. For this we have to make a tender for which other companies can also apply. As a pre-evaluated provider, the start-up is very well positioned in the selection process and can look forward to a certain lead. – It has already proven in a real environment that its solution works.
Such large contracts are certainly very lucrative for the start-ups.
That's true! We are not normally in the spotlight with the household appliance industry. Many founders tend to think more of the automotive industry or aerospace technology when they come up with solutions. In our sector, we sell about 20 times as many appliances as the automotive industry. As the largest European manufacturer of household appliances, we offer an extremely high scaling potential, provided that the validation is positive. We are also interested in long-term partnerships and do not claim exclusivity. The founders can therefore also sell their solutions to other market participants.
Finally, do you have any tips for established companies that are interested in start-ups?
Yes. You have to be very clear about what you want to achieve and choose the right vehicle for it. If you want to develop innovative technologies for your company, partnerships such as the one we enter into with our Venture Client Model are an extremely resource-efficient way. If we had invested, perhaps three small or one larger investment would have been possible – in this way we were able to enter into more than 15 partnerships, in areas that are really important for BSH.
Contact
website: www.bshstartupkitchen.com
LinkedIn: Lars Roessler