Latest collaborations of Startups with SMEs and industry in February 2020
4 Cooperation examples from Industry & Startups
From the Ambivation cooperation database. You can report further cooperations here.
Changemaker in the real estate industry: Startup ecoworks renovates existing buildings ecologically and efficiently
#Real estate #Cooperation #Berlin #Netherlands
Swiss startup PriceHubble supports Japanese company Wealthpark with software for digital rental price calculation
#Real estate #Cooperation #Switzerland #Japan
Startup Wingcopter tests drone with pharmaceutical company Merck for delivery of laboratory samples
#Mobility #Pharma #Cooperation #Darmstadt
Startup Wandelbots and TU Dresden introduce robots at Görlitz Bakery #Automation #Cooperation #Dresden #Görlitz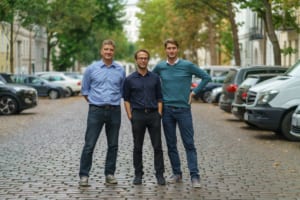 4 Events for collaboration between Industry & Startups
We are looking forward to
meet you
!
4 News on startups, spin-offs and innovation labs

About Ambivation
Ambivation connects innovative companies and startups for cooperation and innovation partnerships. As an innovation consultancy and matchmaker, Ambivation promotes cooperation between established companies and startups within the framework of concrete customer, supplier and research partnerships. We support companies in the identification of needs, startup identification, startup evaluation and cooperation initiation with startups. Formats such as research on relevant startups, startup monitoring, strategic cooperation consulting or event formats such as startup tours serve this purpose. Our monthly newsletter also provides information on current examples of cooperation and events.