Latest collaborations of Startups with SMEs and industry in February 2020
4 Cooperation examples from Industry & Startups
From the Ambivation cooperation database. You can report further cooperations here.
Changemaker in the real estate industry: Startup ecoworks renovates existing buildings ecologically and efficiently
#Real estate #Cooperation #Berlin #Netherlands
Swiss startup PriceHubble supports Japanese company Wealthpark with software for digital rental price calculation
#Real estate #Cooperation #Switzerland #Japan
Startup Wingcopter tests drone with pharmaceutical company Merck for delivery of laboratory samples
#Mobility #Pharma #Cooperation #Darmstadt
Startup Wandelbots and TU Dresden introduce robots at Görlitz Bakery #Automation #Cooperation #Dresden #Görlitz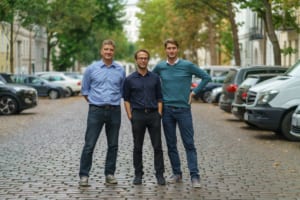 4 Events for collaboration between Industry & Startups
We are looking forward to
meet you
!
4 News on startups, spin-offs and innovation labs