Changemaker in the real estate industry: Startup ecoworks renovates existing buildings ecologically and efficiently
Buildings that generate more energy than their occupants consume – with this promise, the Berlin startup ecoworks immediately aroused our interest. The founders Emanuel Heisenberg, Michael Vahrenkamp and Kristofer Fichtner are using a principle that has already proven itself in the Netherlands and is also meeting with enthusiastic customers here in Germany: Net-Zero modernization. In this process, older existing buildings are given a new shell, which literally has it all. The industrially manufactured modules are installed in a flash, look chic and turn an aging apartment building into a CO2-neutral showpiece. This pleases the owners and is worthwhile for the tenants, who obtain electricity and heat cheaply through a solar system on the roof and heat pumps in the basement. Emanuel Heisenberg gives us exclusive insights into the first cooperation projects with the German housing industry.
Emanuel, while the Energy Spring initiative has already established the net zero principle in the Netherlands, the subject is still new in Germany. What is the current status of your first cooperation projects with the housing industry?
We are currently implementing the first 100 residential units, have one project in the final stages of completion and another one shortly before construction begins. Another one is in the planning phase and two are in the work preparation phase. Our customer groups are housing corporations, municipal housing companies, housing cooperatives and private companies, be they individual companies or investment companies.
How do you get your foot in the door of these companies?
Access to customers varies greatly. On the one hand, it comes from the international Energy Sprung Initiative, on the other hand, from recommendations of the German government and the German Energy Agency dena. I also give a lot of presentations, after which I talk to potential customers. And we are present as a company in various specialist forums. Last but not least, we are sometimes recommended by our first customers or give these presentations about our joint projects.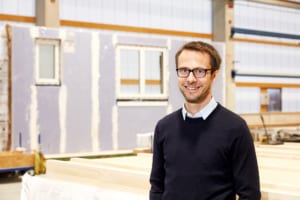 To what extent were you able to draw on developments from the Netherlands when you founded the company? After all, the Energy Spring initiative and the Net-Zero concept already existed back then.
I discovered the business model in the Netherlands five years ago and wrote a policy paper. There was a parliamentary question on this from the Greens. As a start-up, we now face the challenge of adapting the concept to the German regulatory landscape. This concerns issues such as building permits, fire protection or the installation of heat pumps.
Together with the manufacturer, we have redesigned the modules for the renovation case. Specifically, we have to take various measures to ensure that the buildings are CO2-neutral and eligible for subsidies. In addition, innovative solutions are required in many respects. The ventilation system is located in our façade. IoT is also a big issue. We have installed various sensors. We also use software in all kinds of areas – from proposal generation to digital planning and process optimization. We constantly have to think about what else we can do differently and that's what we all enjoy most about our work.
How do potential customers react to your concept?
The companies in the housing industry are surprisingly open and want to change. Nevertheless, the modernisation process is a great challenge for them.
Digitalisation plays a central role in this process, which means massive changes for many customers. In this sense, we are on the one hand a solution provider who takes on a complete modernisation project for the customer and on the other hand a vehicle for change.
You offer your customers heat supply for over 15 years after the refurbishment. As a young start-up, how do you manage to generate the trust that will last for so long?
That is indeed a challenge. The fact is that once the plants are up and running, they could be operated by another service provider if we went bankrupt.
Not only the operation of a residential building, but also the production of your modules consumes energy. Is this so-called "grey energy" an issue for you?
Yes, we have balanced our entire value chain including the grey energy and with our software we can map this for every new project. Currently, the ecological payback time is two to three years. This means that the buildings generate more energy during operation than they consume and thus balance the grey energy generated during production during this period.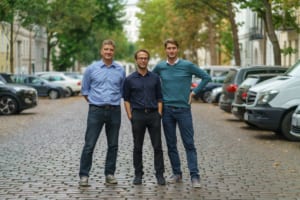 Contact
LinkedIn: Emanuel Heisenberg
Website: www.ecoworks.tech

About Ambivation
Ambivation connects innovative companies and startups for cooperation and innovation partnerships. As an innovation consultancy and matchmaker, Ambivation promotes cooperation between established companies and startups within the framework of concrete customer, supplier and research partnerships. We support companies in the identification of needs, startup identification, startup evaluation and cooperation initiation with startups. Formats such as research on relevant startups, startup monitoring, strategic cooperation consulting or event formats such as startup tours serve this purpose. Our monthly newsletter also provides information on current examples of cooperation and events.