Precautions instead of additional payments – Berlin startup Industrial Analytics protects turbomachinery from failures
When turbomachinery breaks down, it has serious consequences for large companies: Whole machine trains suddenly come to a standstill. Production stoppages are associated with high costs. No wonder that the demand for digital monitoring systems is growing! – But only those who have in-depth specialist knowledge can meet this demand. The Berlin-based startup Industrial Analytics succeeded in doing just that in 2018. In the meantime, the team has secured financing, has grown from seven to 14 employees and in April 2019 received the "Deep Tech Award" as well as the Data Challenge "EVONIK Polymer Performance Predictor". We spoke with founder Dr. Richard Büssow about the "TurboMonitor" and the cooperation with large corporations such as Vattenfall.
Richard, very few of our readers are familiar with turbo machinery used in refineries, chemical plants or power stations. What is your analysis process for early fault detection like?
We are interested in a holistic approach. On the one hand, we evaluate acoustic information and vibration data. We use a very special solution for shaft vibrations, with specific sensors and analyses. On the other hand, we also take a close look at the process information and work with a thermodynamic model of the process. As far as we know, there is currently no other start-up in Germany or internationally that deals with this subject in such depth.
This means that your customers will contact you if the systems are already at a standstill or if they want to have their machine trains checked as a precaution?
Exactly. Recently, for example, we received a request from a manufacturer who uses steam turbines in the production process. There was a defect that already caused production downtimes. In the course of our analysis it turned out that there had been a problem with the machine for some time, but nobody noticed it. With our solution, we could have prevented the production stoppage.
Could you please explain this to us in more detail?
We can set up a monitoring solution that runs as a service in the cloud and keeps track of the machine and reports any deviations. At the same time, we also install hardware that digitizes the signals from the existing sensors. If you want to detect even small changes at an early stage, you can't ignore these vibration data.
And how did it come about that you as a startup are dedicated to such a special topic?
Six of us previously worked for a mechanical engineering company that manufactures turbomachinery, i.e. compressors, steam turbines and gas turbines. We also receive support from Prof. Tobias Friedrich of the Hasso Plattner Institute. During my time as an employee, I have already dealt with the market in detail and noticed that the demand for such monitoring solutions is increasing. But this market was not served, because very special knowledge is necessary to get the essential information. The IoT solutions of various startups did not go deep enough for this and the large corporations were not sufficiently agile to deal with it. – That was our chance!
You provide not only software but also the necessary hardware components. How did you manage the financing?
If you are still at the very beginning, it is difficult to get financing. We initially received a small sum from the Hasso Plattner Institute and did the rest from our own resources together with friends and our families. After the first large pilot projects, we were fortunate to be able to conclude a financing round with Senovo Capital. The amount was mirrored by the Investitionsbank Brandenburg.
As a layman one imagines that turbo machines that run day in and day out often have faults. How did operators like Vattenfall deal with this before your solution was found?
It is already the case that operators of turbomachinery make their own vibration diagnoses. But our solution goes even deeper. In addition, we can relieve the monitoring teams in companies like Vattenfall. We reduce the manual effort and achieve a level of detail that would otherwise not be possible due to the volume of data.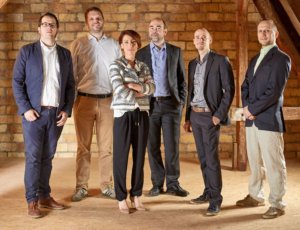 How did you approach customers like Vattenfall?
Our contact persons are typically those responsible for maintenance. Initially, we were able to fall back on existing contacts. Basically, it's not only companies that do business with each other, but above all people with people. In the meantime, however, we also reach our customers through marketing measures.
And how did your pilot project look?
For Vattenfall, we implemented our solution as a prototype. We are monitoring a natural gas compressor at the combined heat and power plant in Berlin Mitte. The pilot phase is almost complete and we are already in talks to extend this service to other locations.
That sounds great! What was decisive for the success of this project?
Everyone is talking about digitization at the moment. But it is important that the solutions are really practical and that those who interact with the turbomachinery in everyday life see the added value. The advantage for us in this project was that we had to deal directly with the people who work with the machines. If you want to install a new system in companies via the digitization units, it can also happen that you don't get beyond a proof of concept.
Young founders often tell us that the lengthy decision-making processes in established companies get them into trouble. Was it like you?
If you're already playing on a whole series of projects, it's sometimes not so bad, because it leaves more preparation time. But at the very beginning it can be difficult. We had a situation where nine months passed between the verbal confirmation of a decision maker and the arrival of the written order confirmation in our mailbox. That's a lot of time for a startup.
What are the advantages of cooperating with established companies?
Initiating such cooperation involves a certain amount of effort on both sides. That is why it makes little sense for companies to constantly change their cooperation partners. Startups that have proven that they can cope with the processes and the high demands can therefore usually look forward to follow-up orders.
Established entrepreneurs are sometimes unsure whether they should cooperate with start-ups. "After all, you don't know whether they will still exist next year…" is a widespread assumption.
Yes, we are quite familiar with such discussions. In our case, this is now less problematic because we have been able to secure financing. As a general rule, contact persons have to ask themselves whether they would rather work with an established partner or with someone who is innovative and fast – then they are in good hands with start-ups.
Photos: Robert Strube
Website: industrial-analytics.io/de
Linkedin: Richard Büssow
About Ambivation
Ambivation connects established companies with startups for innovation partnerships. As an innovation consultancy and matchmaker, Ambivation facilitates collaboration between founders and executives for general exchange, concrete customer, supplier or research partnerships. Ambivation supports companies in the identification of needs, startup identification, startup evaluation and initiation of cooperation. Formats such as research of relevant startups, startup monitoring, strategic cooperation consulting or event formats such as startup tours or Design Thinking workshops serve this purpose. The monthly newsletter also informs curious company representatives about current collaboration examples and events related to these cooperations.