Cooperation between the company Sage and the startup Clickbits
Startups and large established companies usually differ greatly in cultural terms. The fact that they can still cooperate easily and at eye level is shown by the cooperation of the startup clickbits with the ERP and HR software provider Sage.
clickbits started 2011 with its cloudbased time recording system "clockodo" and convinces more than a thousand small and medium sized companies, freelancers and self-employed persons with its amazingly simple handling and lovingly designed screens, which ensure user satisfaction during daily time recording.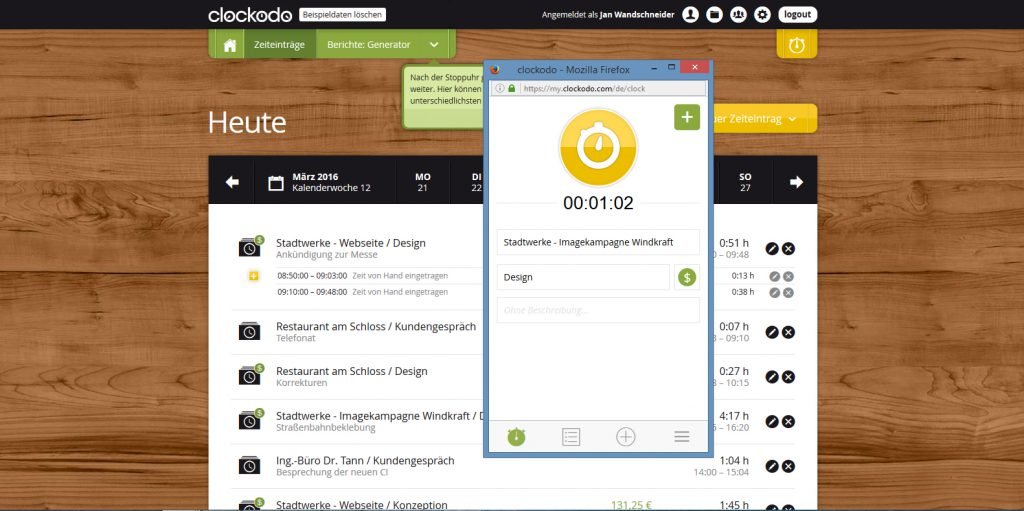 clickbits new partner, the internationally positioned Sage Group, is one of the leading providers of ERP and HR solutions for small and medium-sized businesses. With its payroll accounting tool "Sage Entgelt & Personal" Sage focuses – similarly to clickbits with "clockodo" – on maximum simplification for users. Complementarity and the comparable philosophy behind user guidance are the cornerstones of the partnership between the two – at first glance unequal – companies.
The two clockodo-developer and founder of the seven und Gründer des seven-man start-up report on their promising corporate partnership in a brief interview with Ambi-Vation:
Who initiated the cooperation initiative?
Moritz Hofmann: "Sage came up to us. The strategic partnership manager contacted us looking for complementary software solutions for "Entgelt & Personal""
What mutual expectations/objectives were formulated in advance for the partnership?
Thomas Romanek: "The partnership should provide a functional addition to the customers of both companies. Furthermore, we hoped that the cooperation would lead to greater publicity in the partner's customer base."
Was the development of cooperation subject to a fixed process set by Sage?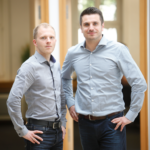 Moritz Hofmann: "No, the form of the cooperation was still open at the beginning. The basic idea was that the two products were technically very similar (SaaS model, simple operability) and functionally complementary. On this basis, we looked for ways to offer the customer a consistent solution. About two months after the first discussions, we signed a cooperation agreement that defined the legal framework. The basis was an online partner agreement standardized by Sage from the company's legal department."
How was the contact with each other? More formal or friendly?
Thomas Romanek: "Something of both: rather formal, but very friendly. "Sage Entgelt & Personal" is a separate, quite young department at Sage, which consciously has a "startup character", which is also communicated in large parts. Nevertheless, one notices the integration into the group structures and habits."
Does the cooperation feel like partnership at eye level?
Moritz Hofmann: "Yes, from the beginning! All decisions about how to work together have been made together. Sage did not dictate any essential conditions here. We were able to contribute our own ideas at any time and always felt that both partners wanted to create added value for both products."
How far have the initial objectives been achieved?
Thomas Romanek: "The functional linking of "Sage Entgelt & Personal" with "clockodo" has been active since March of this year. Since then we both offer on our product marketing pages the complementary solutions of the other and are in contact with Sage to clarify support questions. Some customers have already tried the interface and mutual marketing has also led to additional registrations. However, it is still far too early to evaluate the success of the partnership. Nevertheless, we are already pleased to have taken this step and to be able to operate with a well-known partner."
Which steps in the cooperation are to be followed?
Moritz Hofmann: "We are closely monitoring the use of interfaces and will continue to improve them wherever possible. In doing so, we rely above all on customer feedback. In addition, there is already another link option that is already being used: Sage has recently started offering our tool as an additional module for the "HWP" tradesman solution. Perhaps in the future other products from the Sage spectrum will also offer options for co-marketing."
Thank you very much for the exciting insights and good luck in the future!
Users of Sage Entgelt & Personal will find more information on cooperation in the Sage Blog, clockodo users in the clockodo Blog.
More about startup cooperations can be found in our article "Cooperation forms between startups and established companies".

About Ambivation
Ambivation connects innovative companies and startups for cooperation and innovation partnerships. As an innovation consultancy and matchmaker, Ambivation promotes cooperation between established companies and startups within the framework of concrete customer, supplier and research partnerships. We support companies in the identification of needs, startup identification, startup evaluation and cooperation initiation with startups. Formats such as research on relevant startups, startup monitoring, strategic cooperation consulting or event formats such as startup tours serve this purpose. Our monthly newsletter also provides information on current examples of cooperation and events.